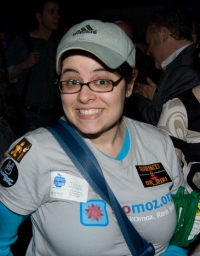 Last week I got to catch up with one of my favorite voices in social media, Tamar Weinberg. I met Tamar at IZEA Fest in Orlando back in 2008. We ended up at lunch sitting together in a large group and ended up talking about blogging, Digg and how Twitter was blowing up. Tamar is a super cool chick that gets to work on some killer campaigns, writes an amazing blog called Techipedia and has written the definitive how-to book on social media, The New Community Rules.
Below is a really fun and laid back interview we did on social media rules for musicians. In the 18-minute iPod ready chat we look at the fine line between promoting and SPAM, how to start getting consistent with your content and how to pitch bloggers to promote your stuff. Digest, download and take notes folks. Tamar is ahead of the game and I'm glad we got to chalk it up for you.
Posts Mentioned In the Call
To thank Tamar for hanging out with us at Gen-Y Rock Stars, we are going to be giving out a copy of The New Community Rules. This book is filled with case studies of what to-do with social media. We eluded in the audio about the similarities between the way that companies and artists should be marketing themselves with social media and this book will get your mind spinning with ideas to help promo your music.

To win the copy all you need to do is tell us in the comments what your biggest roadblock to getting fully engaged with social media is? And if you are already engaged, just tell us about what you are doing with social media to help promote and market your music. The best comment wins the book. I'll pick the winner on Friday April 2nd sometime around 5pm EST.
If you want to beat the crowd and grab the hard copy on your own, head on over to Amazon and scoop it up!
Thanks for listening.
-Greg
(oh and as with nearly every promotional link, you should assume those are affiliate links, which they are. They help feed the staff.)